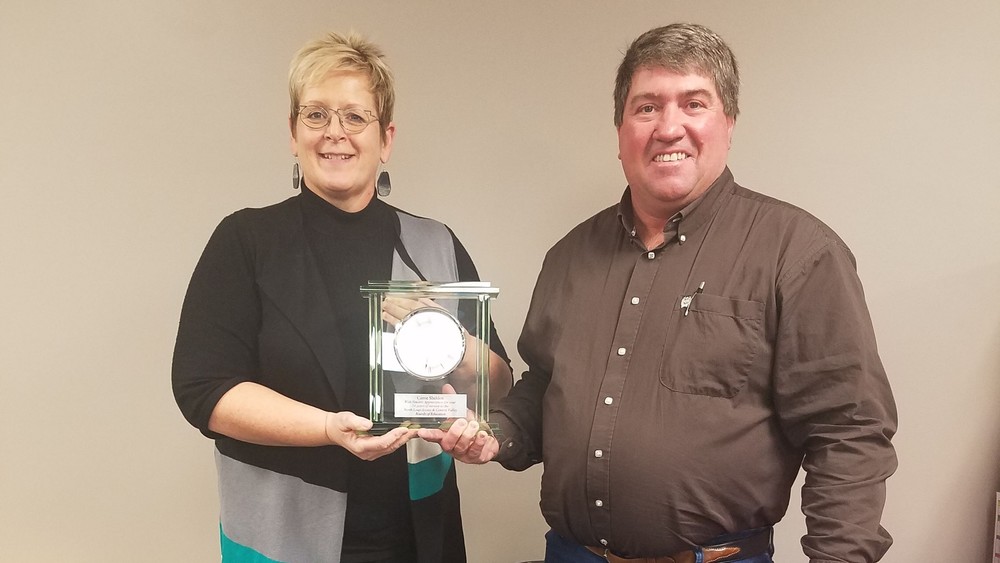 School Board, Administrators Thank Sheldon For Her Service
Central Valley Public Schools
Thursday, January 31, 2019
North Loup's Carrie Sheldon has served as a School Board Member for the Board of Education since 2008; first for North Loup-Scotia Public Schools and, more recently, as Vice President for Central Valley Public Schools. On January 14, Sheldon attended her last Board meeting as a member, ending 10 years of service on the Board. At an earlier meeting last November, School Board President Ross Butcher thanked Sheldon for her service to the schools and its communities and presented her with a crystal remembrance clock.
"Carrie has been integral to so many of our undertakings through the years," said School Superintendent Amy Malander. "She brought a wealth of knowledge with her." Malander noted that Sheldon took part in passing a $3 million bond for the Central Valley Elementary School and, later, for securing the additional space that was added at the Elementary. "She was also essential in the merger between North Loup-Scotia and Greeley-Wolbach," Malander added.
Part of the Board of Education's role is to support the Superintendent in managing the district and to work in concert with the administration for the students' education in the community. Malander said Sheldon's involvement in various curriculum and transportation upgrades throughout the district helped benefit students both academically and in terms of their safety. "Carrie was a strong force and advocate for the schools and its students," Malander said. "Her position as Chair of the Policy Committee—a position that took her through every policy in the book before merging the district's policy book—was especially significant. On top of that," Malander added, "Carrie had to go through the policy book a second time to see to all the updates." She called Sheldon's exhaustive attention to that project invaluable.
Sheldon herself said about the extensive changes that have taken place over the years, "We, as a team, worked hard to give the students the best learning facilities and provide the teachers with experiences to develop great curriculum. I feel Central Valley has grown in a positive direction." She said that, going forward, "the challenge for the administration and the Board will be setting time to get to know the people and resources that each of the four communities bring to the table and seeing it as an opportunity to set new examples of collaboration among districts that consolidate." She added, "I think the district has set a standard for growth that is unparalleled in smaller districts, and I wish them well."
Malander said Sheldon's presence on the School Board will be sorely missed. "Her experience in the education field was invaluable when making decisions for the district," she noted. Although it is hard to see Sheldon go, Malander said she looks forward to working with her predecessor, Mike Rosander, who was sworn in at the January 14 meeting.