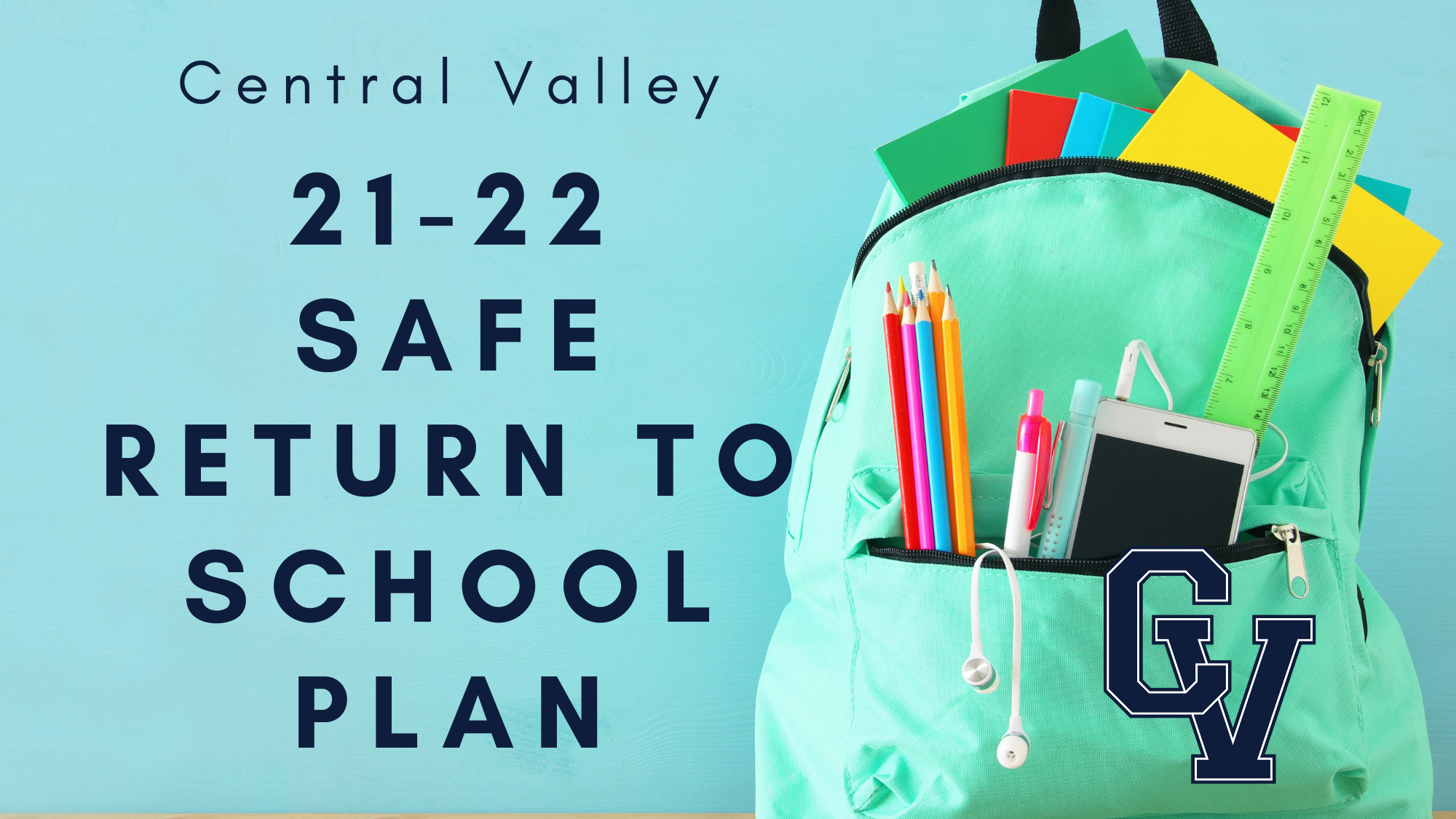 Central Valley Public Schools will continuously review and update the 2021-2022 Central Valley Safe Return to School Plan throughout the school year as the risk of COVID-19 spread in our community changes.
Central Valley Public Schools will open the 21-22 school year as normal with the following adaptations:
SCREENING: Should be done at home prior to boarding the bus or entering the school.

BUILDING ENTRY: Doors open at 7:15 for breakfast, hand sanitizer at entry points, hand sanitizer in classrooms

SCHEDULE: Approved by the Board of Education prior to school starting, normal schedule

LEARNING: In person with students, space 3-6 feet apart when possible

ACTIVITIES: Follow NSAA Guidelines

FOOD SERVICE: K-12 designated areas, students will wash hands or sanitize hands prior to eating, thoroughly clean and sanitize tables daily, no more than 6 students per table

RECESS: Monitor students, wash or sanitize hands prior to returning to classroom

TRANSPORTATION: Sanitize bus daily

CUSTODIAL: Trash can liners replaced often in high contact areas, bathroom cleaning at scheduled times throughout the day, door handles & light switches & desks & student chairs disinfected daily

GYMNASIUM & LOCKERS & BATHROOMS: Will be sanitized after every event

MASKS: Optional

VACCINATIONS: Inform parent/students where vaccinations maybe received

SAFETY COMMITTEE:

Todd Beck: High School Principal

Shelly Houtby: High School Secretary

Amy Malander: Superintendent

Linda Nielson: Elementary Custodian

Connie Shafer: Elementary Principal

Michelle Wood: School Nurse
The work will be ongoing as new research emerges and more guidance is provided to the school from the Loup Basin Health Department, the Nebraska School Activities Association (NSAA), the Nebraska Department of Education (NDE), and the Centers for Disease Control and Prevention (CDC).
Any changes to our plan and protocols will be communicated ahead of time through the newsletter, website, email, and text alerts.
Please note: Central Valley Public Schools will adjust protocols (including face covering requirements) as necessary to address changing conditions. During the 2021-2022 school year, protocols and requirements may change for a specific school building, program, classroom or setting based on number of positive cases, contact tracing, community test positivity rate, community conditions and risk of spread.
The Central Valley Public Schools 2021-2022 Safe Return Plan was last revised and reviewed on July 12, 2021 at the Central Valley Board of Education Meeting.