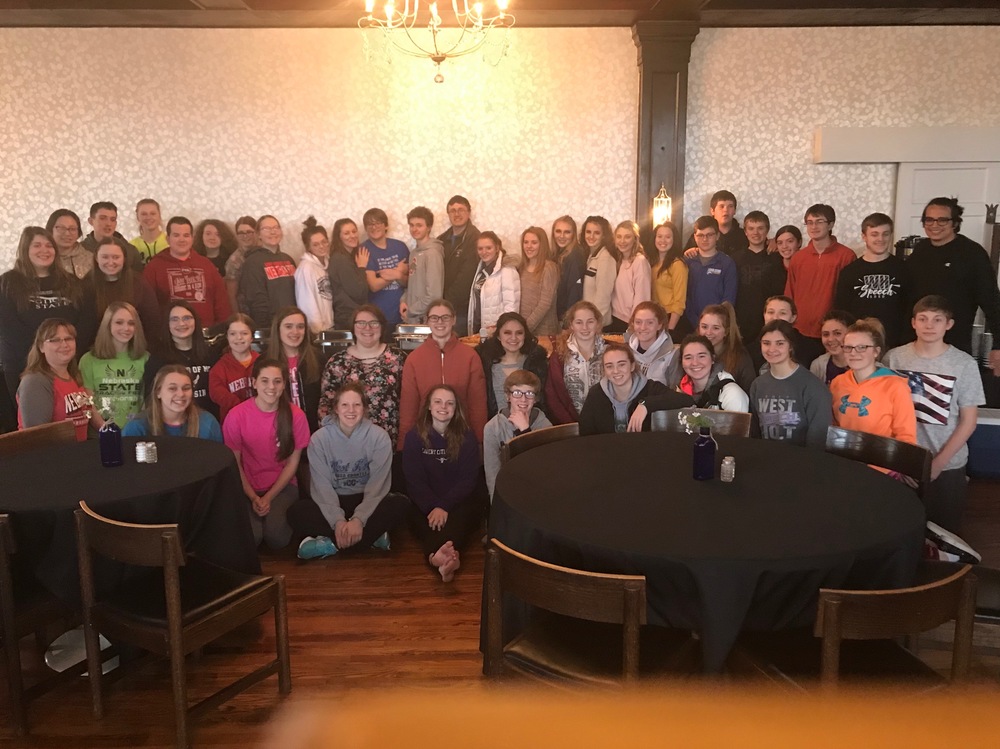 Town Of Hartington Shows Stranded Students The True Essence Of Kindness
Central Valley Public Schools
Thursday, March 28, 2019
By now, everyone is aware that Nebraska suffered one of its worst natural disasters in recorded history. Following the aftermath of what weather experts called a "bomb cyclone," Nebraskans saw the true measure of humanity in all its giving. On a smaller scale, the Central Valley Speech team experienced firsthand the kindness of strangers when they found themselves stranded in Hartington, Nebraska when the storm struck during their District Speech meet.
With forecasts grossly underestimating the coming fury of Mother Nature, the 14-member team and its coaches took two vans to Hartington Tuesday evening, March 11, in anticipation of their District meet on Wednesday. The planned overnight trip quickly turned into a three-night stay after an epic winter storm and gastful flash flooding made their return trip home dangerously unwise.
On a soggy mid-morning Wednesday while the first rounds of Speech competition were still underway, news came that bridges were being torn from their moorings and roads had turned into violent streams. The edict came to stay put! Central Valley seniors Dan Kehler, Haley Thompson, Kaitlin Roy, and Zach Lauria, junior, Kenzie Wadas, sophomores, Becca Houtby, Audrey Wood, Lexi Schaffert and Ashlyn Wright, freshmen, Carly Johnson, Elaine Abrajan, Neleigh Poss, Dilynn Wood, and Airalee Evans, and coaches, Karen Reynolds and Mary Ann McQuillan, were beyond fortunate. Their administrators had managed to save their hotel rooms. Several other schools were not so lucky. They were forced to either find space on the host school's gym floor or plot a course and push on to Yankton or Wayne where hotels still had some vacancies.
Since everyone had planned for a brief overnight stay, things like clothes, cash, and other conveniences were in short supply. To top it off, forecasters were warning that more rancorous weather in the form of blizzards and cyclonic winds were expected to hit the area on Thursday.
Home never seemed so far away.
At the awards ceremony late Wednesday afternoon, sounds of congratulations were tension mixed. Everyone was tired or hungry or both, and there was a thrumming undercurrent of worry concerning loved ones and neighbors back home. Then, shortly before the meet ended, an officer from Security National Bank arrived and announced they were buying everyone's dinner from the local Pizza Hut that night! While the weather spelled deep misery for much of the entire state, the town of Hartington reached out to show Central Valley and three other schools stranded unparalleled kindness.
That Wednesday evening, in addition to pizza, the bank sent coolers filled with water and sodas to the Hotel Hartington where another school was staying and to the Cobblestone Inn where Plainview, Bassett, and our own students were staying. While our kids milled around in the foyer, checking their phones for updates back home, the manager of the Cobblestone, a former high school principal, looked at their faces and decided they needed a diversion - something to take their minds off the weather. On Thursday, he told them, (knowing no one would be going home), he would unlock his fitness center so they could use it for a few hours, free of charge. Fourteen kids smiled. Then he mentioned there was a Dollar General in town if anyone needed to go get a few items. And the smiles grew bigger.
There was something cathartic about those visits to the Dollar General. The few half hours spent there became a favorite enjoyment, a stopgap where students could set aside their worries and shop for a 500 piece puzzle, a miniature Monopoly game, a horror movie (which kept them up waaay too late), for lip balm, a favorite treat, or even a complete change of clothes for little more than $5.00. While the catharsis was temporary, it allowed the students and coaches an opportunity to make choices, as in what to buy, when their real choice, as in how to get the heck home, wasn't an option.
On Thursday morning, the promised storm hit Hartington with blowing snow and angry winds. As was the practice, the students gathered in the coaches' hotel room to talk and share stories from home. Knowing their families were safe gave students the freedom to joke and be silly, to laugh and give thanks. They gave thanks for the people of Hartington and all the local businesses; for the Cobblestone's manager/former principal and the teachers from host school Cedar Catholic who, parents themselves, had brought in pans of comfort brownies and homemade treats. And they prayed. They prayed for the farmer who lost his life and for their fair state that, unbeknown at the time, would emerge unrecognizable. They prayed for those traveling and for those fighting to save their homes and livestock and livelihoods. They prayed in English and listened to prayers said in Spanish, and they prayed that on Friday, they would find safe passage back home.
On Thursday evening, after being treated to a royal banquet buffet at the Hotel Hartington, their prayers were answered. Edmund Smyth of Greeley had been studying the 511 emergency road app on his phone. He called the coaches to tell them if they avoided the east side of Norfolk that was underwater and jigged before they reached the barricades near Madison, they would have a clear shot getting home.
Friday morning arrived with purposeful sunshine. After a volley of good-byes to the Cobblestone's manager and a final group prayer to St. Patrick, the students and coaches loaded up their vans and, less than four hours later, pulled into the parking lot at Central Valley. As they climbed out of the vans, their faces lit up with smiles.
Memories are a funny things. The bad sometimes seem stronger but the good ones last longer. Freshman Elaine Abrajan will remember the "cozy room meetings" held at the hotel with shared news from back home and how all the meetings closed with a prayer of "one's choice." Sophomore Lexi Schaffert will remember the group time spent laughing, talking and praying. Sophomore Ashlyn Wright will remember all the fun she had with her roommates, "despite the stress of being stranded." Senior Dan Kehler will remember the "extraordinary kindness" the town of Hartington showed. Freshman Dilynn Wood will remember a popcorn-and-scary-movie night that had her "bunching up with her friends." And freshman Carly Johnson will remember the big bullseye at the Norfolk Target when her van pulled in the parking lot on Friday. "It signaled two things for me," she said. "First, it meant we were closer to arriving home and, second, there was a Vanilla Bean Frappuccino in Starbucks with my name on it!"
As for the coaches, they will remember the Beast that was Nature those few days and how the students dealt with its crazy uncertainty with so much maturity. They will remember that prayers bring a sense of peace and that they always work: in their case disguised as a 511 app and a call from Edmund Smyth. They will remember the town of Hartington and hope that if, God forbid, circumstances were ever repeated, the four towns that call Central Valley their school would treat stranded strangers as magnanimously as Hartington treated theirs.