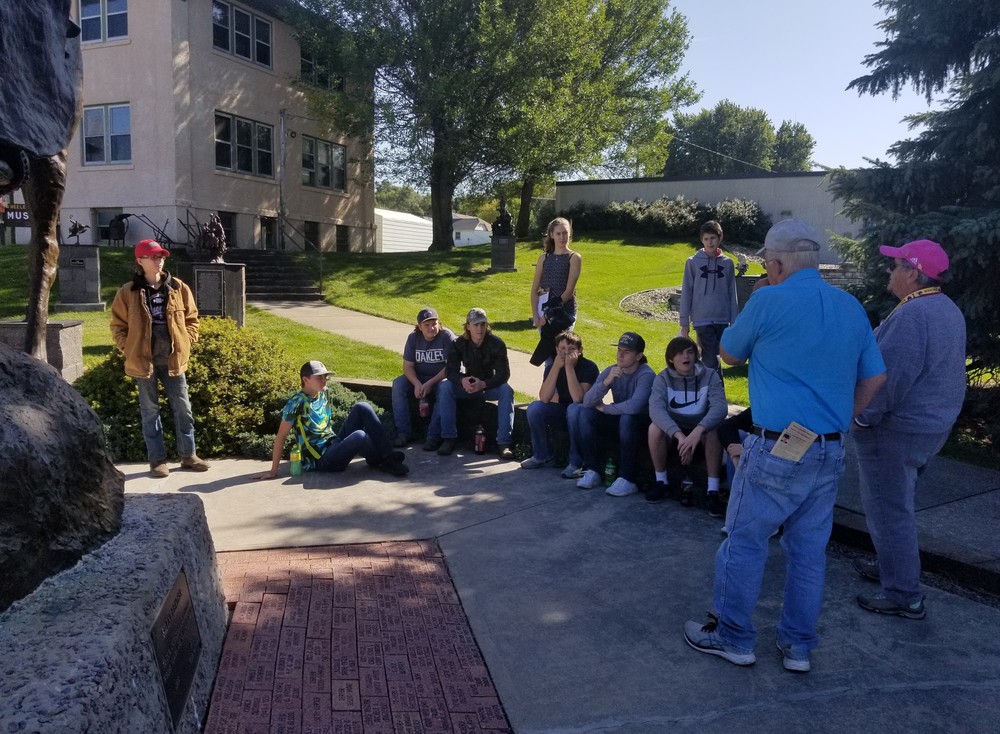 Bartlett's Bronze Sculpture Garden Inspires High School Art Students
Central Valley Public Schools
Tuesday, November 05, 2019
Before Art teacher Kathy Rakness' ten students set out north on Highway 281 to explore the Bronze Sculpture Garden located on the courthouse lawn in Bartlett, Nebraska, she asked them to look at a pamphlet featuring several bronze sculptures and describe what they saw. What they saw paled in comparison to the 32 lifelike images renowned sculptor Herb Mignery created and donated to the community where he once lived.
The bronze sculptures all carry a western theme and tell a story of life on the plains. One of them portraying a Native American Indian caught sophomore Tyler Beaty's eye. "I've always been interested in Native American art. When I first saw the picture in the pamphlet, I thought it was of some Indian playing with his fingers." Beaty said when he had a chance to look closely at the sculpture, he could see the Indian was holding a coin in his hand. "The coin was a sign of peace," he said.
Junior Larista Barner said she was struck by how real Mignery's sculptures were and at the attention to detail he gave them. "On one sculpture's face, it was almost like you could see every individual hair," she said.
Rakness said her students are starting a sculpture unit and were fortunate to enjoy the artistry and craftsmanship of someone as gifted as Mignery so close to home. "In addition to the sheer mastery of his work, the fact the sculptures rest on pedestals and are situated outside on the courthouse grounds helped students appreciate the historical perspective of each piece." She said what made their visit even better was having Bob Nichols, a lifelong friend of Mignery who lives in Bartlett, on hand to relate some of the stories behind the sculptures.
Nichols told students that although Mignery moved to Loveland, Colorado many years ago, he still shares a deep affection for the community he grew up in and has been donating sculptures to them for the past 17 years. This October, Mignery donated six more pieces which are not yet on display. The total worth of the collection is estimated to be near one million dollars.
"Mignery has an uncanny ability to bring each of his characters to life," Rakness said, noting how many of the sculptures' faces show the suffering and hardships people of the plains had to endure. "I think my students came away appreciating not only the art of sculpting but also the harsh history of our past. Individually, each piece is uniquely moving, but the composite of them all really tells the story of the strength it took for people to overcome adversity and survive out here on the plains."