Central Valley has a new hub for all activities and events. rSchool Today is our new activities scheduler and will be the go-to place for detailed information regarding and all happenings in the Central Valley district! You can access this calendar through the web page by clicking "Menu" and then the "Calendar" button, or on the mobile app by touching "Calendar" in the left hand slide-out menu. Or if you'd like to bookmark the page now Click Here!
Below you will find some helpful tips to navigate the new site.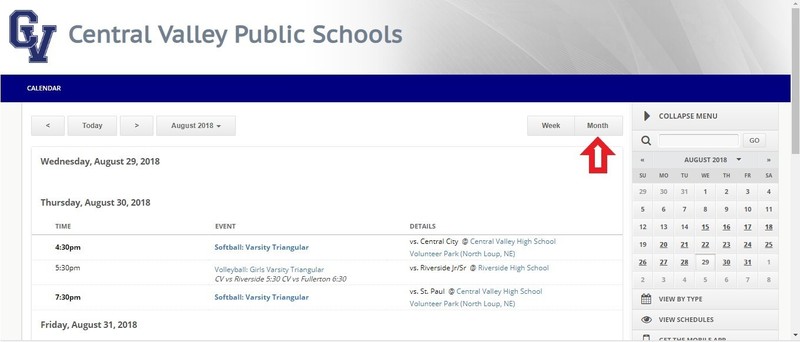 The main page of the calendar site will always show the current day of the month by default. This operates like any other online calendar service giving you the option to scroll down by day, or shift by week or the entire month. Clicking the "MONTH" button in the top right-hand corner will change the display to a calendar format as opposed to a list format.
The right-hand menu pictured above contains many filtering options.
"VIEW BY TYPE" gives you the ability to filter the calendar by the categories shown. So if you only want to view certain categories, such as High School Only events, simply check "HIGH SCHOOL" and then click the VIEW button below.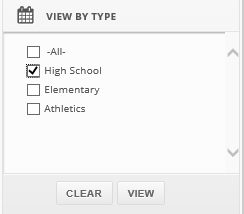 "VIEW SCHEDULES" shows a list of every Athletic Activity that is offered to Central Valley students. By checking the box next to a certain activity, you are able to then view the schedule in list form, only for the activity checked. You can check as many activities as you would like and then click the VIEW button. After clicking view, you have the option to "Print" or if you can subscribe to that particular schedule, if you would like those events to auto-populate into your own personal Google Calendar, Outlook Calendar, or iCal!

"NOTIFY ME" will allow you to set up an account, and then choose individual events or activities that you our your student might be involved in. This allows you to receive email and text message reminders and updates related to those particular events!
ACTIVITY BUS TIMES: You are able to see the leave times for your student's activity bus by simply hovering over the title of that specific event. The pop-up screen will display "Bus Info" such as the Leave Time and Dismissal Time!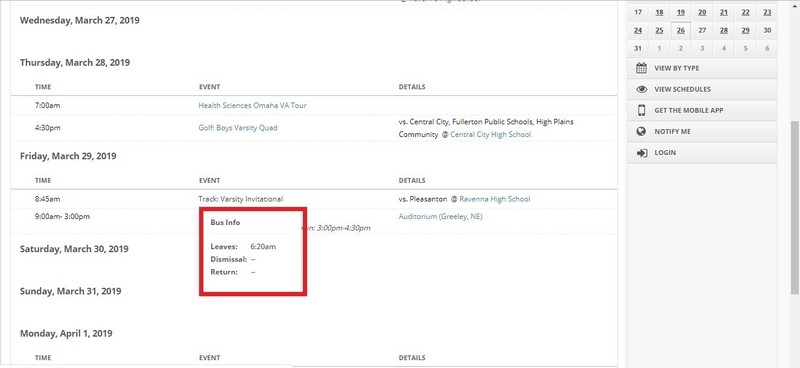 Bus Times are also listed after clicking on the title of an event in the bottom left hand corner as shown below!